AFGHAN
MORGAN
Am DC/Mex CH Seranade's
Attitude Dancing, SC/(ASFA)Fch
My first adventure into the Afghan arena. I saw this puppy along with her siblings at age 4 months and told the breeder--I gotta have that bitch! After over 2 years of whining, temper tantrums and pleading, Karen Larsen finally agreed to allow me to co-own her! We are delighted and proud of her many accomplishments to date. Just as an example... On her first sorte into the Coursing Field, she won a Best In Field for a 5 point major! She has CORRECT TYPE and SOLID FLOATING MOVEMENT!
BASENJI
JOLI
AmDC/Mex CH Solei Anjolie Sunstag, SC/(ASFA)FCh
Her mom is a lovely red that I co-own with Holly Benton. The litter was exceptional--so much so that Holly kept another of the girls--but I'm rather partial to "color"...lots of color, and Joli has it! An exquisite tri, she has the structure, type and soundness I look for in the ring. She matured early--which is good for us--garnering her first major before she was a year old and finishing young. She traveled with me to Baja for the Mexican shows and is also a Mexican Champion.
BORZOI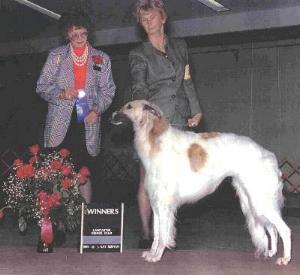 VIVIAN
CH Swanmanor Harmony Huntress, SC
...is out of home bred champions, Ch. Swanmanor D' Perrier Jouet, J.C. ( Ch. Swanmanor's Bella Balaliaka,S.C., Fch X Ch Rising Star Dmitri of Sunbarr, J.C.) X Ch. Swanmanor's Cardinal Crimson, SC, Fch, LCM ( Ch. Phantom Lake Dirlov Janee X Ch. Kinovar of Swanmanor, SC, Fch. LCM). "Vivian" combines substance, balance, & grace...full dentation, sissors bite and a wide, strong under jaw.She is the Mother of our CURRENT litter, and (most importantly) is the daughter of my bitch from my first Borzoi breeding, Ch. Swanmanor D' Perrier Jouet, J.C.
Check with Co-Breeder for Puppies.
RHODESIAN
RIDGEBACK
KEEPER
DCH/Mex CH River City's Oh Whats One More, SC
She completed her CH in the Bred-By class! I took her to Baja and
finished her Mexican title in August 2003. Temperamentally suited to family life,
Keeper has been retired to "couch and clicker" heaven.